SEATUC 2020 will be held at KX – Knowledge XChange Building.
Located near BTS Sky train, Krung Thon Buri station, it is very easy to commute between KX Building and downtown.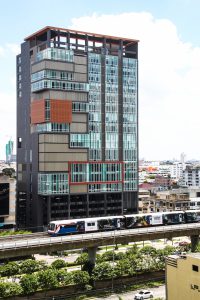 Transportation
From Suvarnabhumi Airport to KX building
By taxi:
The airport taxi stand is located on Level 1 – Ground Level, near entrances 3, 4, 7 and 8.
By sky-train
If you would like to take a train to city-centre, the Airport Rail Link can be one of your travel choices.
Located on the B Floor, the Airport Rail Link connects you to the BTS Skytrain at Phayathai Station. From Phayathai Station, you can change to the Silom Line at Siam Station.
KX Building is located near BTS Sky train, Krung Thon Buri station and Wong Wian Yai Station. (If you are coming from downtown, Krung Thon Buri station is the closest one.)
From Krung Thon Buri Station (S7), take the exit no. 2
From Wong Wian Yai Station (S8), take the exit no. 4